Vancouver Chan Meditation Centre
Description
Vancouver Chan Meditation Centre is a sanctuary for all who wish to let go of their worries and rediscover themselves. Whether you are completely new to meditation, experienced in Chan meditation, or simply wanting to have a taste of Chan, everyone is welcome to come here and practice.
In this community, we live and learn the Buddha's teaching through the tradition of Dharma Drum Lineage of Chan Buddhism, as established by our founder of Chan Master Sheng Yen. The teaching of our monastic and lay teachers continues the centuries-old style of Chan Buddhism, while reshaping Chan to meet the needs of modern life, making it more accessible to the broader audience in this community, beyond religious and cultural divides.
People from all walks of life come to practice Chan and to cultivate compassion and wisdom. Chan practice can deepen your understanding of yourself and help you to develop harmonious relationships with others. It will help you make a positive contribution in this world.
Practice Schedule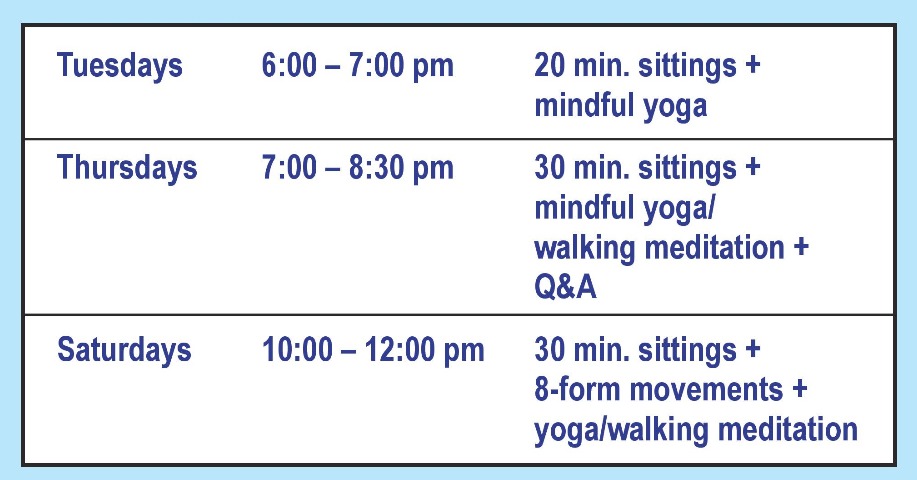 One-day retreat: March 9, June 8
Four-day retreat: August 2 ~ 5
Seven-day retreat: April 5 ~ 12, July 6 ~ 13
Beginner's Meditation Workshop (4-part): April 21, April 27, May 4, May 11
Tradition
Chinese Chan
Teacher
Venerable Chang Wu
Email
chanmeditation.ca@gmail.com
Phone
(604) 277-1357
Website
http://www.chanmeditation.ca/
Location
550 West Broadway Vancouver British Columbia V5Z 0E9 Canada.